We've just touched down for a bit of a whirlwind trip to the US, lots going on here but good news is that the blog will finally switch over to its new design (promise!) on October 1 so things will finally be starting to get back to normal!
In the meantime, since we're here in the US this week, taking a bit of time to really re-introduce our daughter to things like the American flag and what it stands for. If you've been reading over on A Toddler in the Trees, you might have caught the post about my daughter
thinking she's Danish
. Since then, it dawned on me that she really didn't know that much about US History in the same context that we would have had just by living here.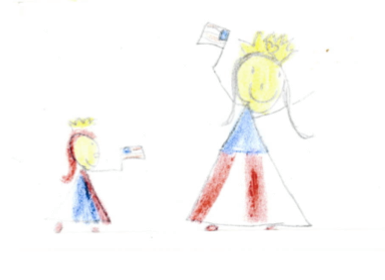 Granted, she's four, so it's not as though I'm looking for her to be a historian, but in thinking about the conversation we were having around
Facebook
and otherwise about some of the feelings she was going through, I started to wonder if I should be bringing in a little more for her myself. Part of it is a question of individual knowledge – I'm a political science and international relations buff by background so I inherently think history is important. But there's also a collective knowledge portion, a feeling of belonging to a particular history or community. Just because we don't live in the US, doesn't mean that she shouldn't have that sense of history from there.
That feeling, plus the requirements on our kids for when they do return to kids, is exactly why Alix Bryant, a fellow foreign service mom started something called
US History Abroad
. It targets kids from kindergarten level onwards who aren't living in the US but have a need to know a little bit more about who we are and the historical background we come from. While our own tot is still a bit young this year, it got me to thinking how we might start to think about her education in the future and thought it might help any other fellow third culture US parents out there and I wanted to share a few thoughts in a little interview with Alix. Check out
her thoughts
, as well as all the info on how to get enrolled over on
A Toddler in the Trees
!